Double, square, wall-mounted ballet barre bracket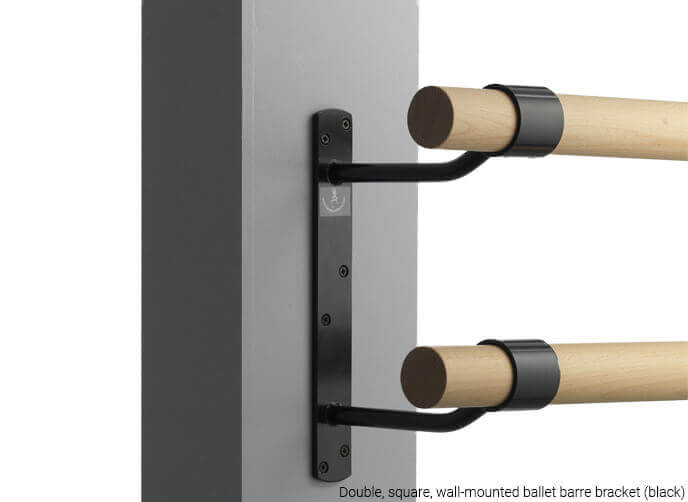 A double, square shaped, fixed wall-mounted ballet barre bracket is supplied, complete with screws and plugs and can be mounted at any height.
PLEASE NOTE: the wooden barres shown in the pictures are sold separately.
---
---
Constructed from powder-coated steel.
Barres are set at 21cm (8.27″) from the wall to the centre of the barre. With the double bracket, the two wooden barres are spaced 20cm (7.87″) apart.
Additional colours can be made to order – contact us for further information.
Do the barres come with the brackets?
No, you will need to order those separately.
How many brackets do I need for 2.3m barre?
It is suitable for just 2 brackets, however if you want extra support you can always get an extra bracket for the middle.
If I want a line of wall mounted ballet barres, how many brackets do I need?
The brackets go on the end and one in between each barre if you have no gap between the barres. You generally have 1 more bracket than barre, so if you need a line of 5 barres, you would get 6 brackets.
What is your delivery service?
If you place your order during working hours, your item(s) are in stock and your payment has been confirmed approximate* delivery times are:
Delivery to metro areas of the Eastern seaboard, 1-3 business days. South Australia, 2-4 business days. Perth, 5-7 business days. Northern Territory or northern Western Australia, 5+ business days and up to 10-12 business days. Tasmania, 3-7 business days.
Express delivery is available – please contact us for further details.
*These are approximate times only as Harlequin Floors rely on freight companies for delivery of items. As Harlequin are relying on an external provider, once items are with a courier Harlequin are unable to control delays due to circumstances outside of Harlequin's control and take no responsibility of courier delays.
Place order by phone